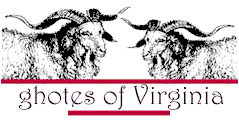 Reviews of Books Related to the
Genealogy and History of the Eastern Shore
---
Four Generations of the Parks Family of The Eastern Shore
Researched and Compiled by Gail M. Walczyk
(Coram, NY: Peter's Row. 1998)
Reviewed by Rebecca Miller, ghote
Four Generations of the Parks Family of The Eastern Shore, done in family report style, documents the founding four generations of the Parks/Parkes family on the Eastern Shore of both Virginia and Maryland.

Starting with John Parks (circa 1652-1709), the report continues through his great grandchildren, the descendants of his sons Arthur, John and Edmund Bailey. The research is based on thorough examination of primary sources of three counties: Accomack County, VA; Dorchester County and Somerset County, MD. Ms. Walczyk's work on this family was cited by the Parke Society Newsletter, (1997:Vol 34 No 3, p36) as being "an excellent example of of what can be learned through the use of tax records, land records and wills."

An excellent primer on the Parks/Parkes Family of the Eastern Shore, this work is made all the more useful to researchers of this family by Ms. Walczyk's attention to detail, particularly in indexing the many individuals encountered in her research.

Paper, 29 pages, sourced and indexed $10.00.

To see sample pages from this work, click here.

Write to Peter's Row, 27 Thomas Street, Coram, NY, 11727
Send e-mail: PetersRow@aol.com

If you know of other books that should be reviewed on this website, or would like to submit such a review, please send information to Barbara Cox ghotes@ix.netcom.com.
---
Return to the top of this page
Return to the index of reviews
Return to the GHOTES home page
---
Page accesses to date:
---
Barbara Cox ghotes@ix.netcom.com

Copyright © 1998 Most recent revision February 9, 2004 (wls)
---