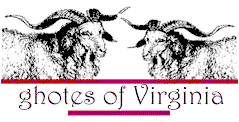 Eastern Shore of Virginia Recipes
MaMa's Sweet Potato Biscuits
Provided by Martha Simpson
---
MaMa's Sweet Potato Biscuits
(Recipe used by Sallye Silverthorn Middleton 1885-1970.)
1 heaping c. mashed sweet potatoes
2 Tbsp. sugar
1 tsp. salt
1/2 c. shortening
3 c. flour
3 tsp. "yeast powder" (baking powder)

Boil potatoes in skins, peel and mash. Add sugar, salt, and shortening to warm potatoes.
Sift flour and yeast powder together. Add to potato mixture.
Add water to make consistency of biscuit dough.
Knead a few times to make smooth. Form into biscuits.
Bake at 450 degrees about 12-15 minutes until light brown.

---
Do you have Eastern Shore of Virginia family recipes you would like to share with readers of this web site? If so, please e-mail them to Jack Burn jackburn@swva.net . Thanks
---
Return to the top of this page
Return to the Eastern Shore of Virginia Recipes Index page
Return to the GHOTES home page
---
Barbara Cox ghotes@ix.netcom.com

Copyright © 1996 Most recent revision February 9, 2004 (wls)
---