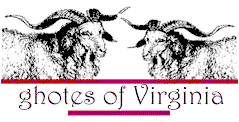 Eastern Shore of Virginia Recipes
Clam Fritters
---
Recipe provided by Marian Thorowgood
Clam Fritters
The following Clam Fritters recipe is a handwritten one from my mother, Elizabeth Dukes, that I have used for more than 40 years (when I could find clams like ES seaside ones).
Approximately 20 clams - reserve liquid and use only a part of it if too salty.
Add water if needed.
Cut clams with scissors or preferably with hamburger knife on grinder.
Slightly beat 2 eggs and mix with flour (approx. 1 cup), clams, and liquid to form medium batter.
Fry in hot vegetable oil--one or two tablespoons for each fritter.
---
Do you have Eastern Shore of Virginia family recipes you would like to share with readers of this web site? If so, please e-mail them to Jack Burn jackburn@swva.net . Thanks
---
Return to the top of this page
Return to the Eastern Shore of Virginia Recipes Index page
Return to the GHOTES home page
---
Barbara Cox ghotes@ix.netcom.com

Copyright © 1996 Most recent revision February 9, 2004 (wls)
---