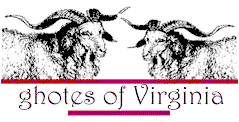 Eastern Shore of Virginia Recipes
Crisp Sweet Pickle (Bread & Butter)
---
From the recipes of Eva Virginia Justis Burn.
4qt. Sliced thin cucumber (12 big cucumbers - do not pare)
6 white onions, sliced
1/3 cup salt

Cover with Ice Cubes, mix good. Let stand for 3 hrs. Drain thoroughly.
Mix :
1/2 tsp tumeric
4 Cups white sugar
1½ tsp celery seeds
2 tbs Mustard seeds
3 cups vinegar

Pour mixture over pickles. Heat to boiling, then seal in hot sterilized jars.
Posted by Jack Burn
---
Do you have Eastern Shore of Virginia family recipes you would like to share with readers of this web site? If so, please e-mail them to Jack Burn jackburn@swva.net . Thanks
---
Return to the top of this page
Return to the Eastern Shore of Virginia Recipes Index page
Return to the GHOTES home page
---
Barbara Cox ghotes@ix.netcom.com

Copyright © 1996 Most recent revision February 9, 2004 (wls)
---