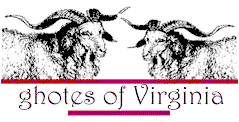 Eastern Shore of Virginia Recipes
Cornmeal Hot Cakes
A real old family recipe
Provided by Robert and Elizabeth Alderson
---
l cup white stone ground cornmeal
1 tsp. salt
1/2 tsp. baking soda
1 tablespoon sugar
3/4 cup white flour
1 egg
1 cup milk
boiling water

Mix the cornmeal, salt, baking soda, and sugar in mixing bowl.
Add 1 1/2 to 2 cups of boiling water to make a slightly thick mush.
Add beaten egg, flour and milk to make thin consistency pancake batter.
Don't mix too much or they will be tough.
Cook on a real hot greased griddle until done. Good!!!!!!!!!!!
---
Do you have Eastern Shore of Virginia family recipes you would like to share with readers of this web site? If so, please e-mail them to Jack Burn jackburn@swva.net . Thanks
---
Return to the top of this page
Return to the Eastern Shore of Virginia Recipes Index page
Return to the GHOTES home page
---
Barbara Cox ghotes@ix.netcom.com

Copyright © 1996-97 Most recent revision February 9, 2004 (wls)
---