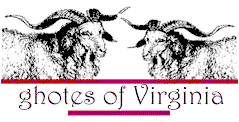 Eastern Shore of Virginia Recipes
CORNBREAD (Pone)
Provided by Priscilla C. Beachboard
---
CORNBREAD (Pone)


Recipe By     : Dorothy Richards Pilchard

Serving Size  : 9    Preparation Time :2:30

Categories    : Bread



  Amount  Measure       Ingredient -- Preparation Method

--------  ------------  --------------------------------

   1 3/4  cups          cornmeal, white

     1/2  cup           sugar

   1      teaspoon      salt

   1      quart         milk

   2                    eggs -- beaten

   4      tablespoons   butter


Water- or stone-ground fine white cornmeal is necessary for this recipe. Sugar may be increased to 1 cup if preferred.
Generously grease a 6" x 10" glass dish. Cook meal, sugar, salt and milk together in a double boiler, stirring frequently since meal tends to sink to the bottom of the pan until the mixture thickens. When thick, remove from heat. Add a little of the hot mixture to the beaten eggs; stir.Fold egg mixture and butter into cooked meal. Bake at 400 degrees for 45 minutes to an hour, or until firm in the center. Cool in the pan for 1 hour. Cut in squares and serve.
- - - - - - - - - - - - - - - - - -
Serving Ideas : Espcially good with turnip greens, ham or fried fish.
NOTES : There are almost as many recipes for cornbread as there are Eastern Shore cooks, and this recipe is for those who prefer a more moist pone, buttered and eaten with a fork.
---
Do you have Eastern Shore of Virginia family recipes you would like to share with readers of this web site? If so, please e-mail them to Jack Burn jackburn@swva.net . Thanks
---
Return to the top of this page
Return to the Eastern Shore of Virginia Recipes Index page
Return to the GHOTES home page
---
Barbara Cox ghotes@ix.netcom.com

Copyright © 1996-97 Most recent revision February 9, 2004 (wls)
---