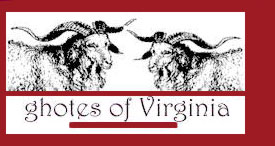 W
Eastern Shore History
Civil War Soldiers of the Eastern Shore of Virginia
Provided to Ghotes by Barry W Miles, Moody K Miles, and Dr. Brooks Miles Barnes

Eastern Shore of Virginia Register of Loyal Volunteers
(Civil War Era) Contributed by Jeanne Abrams Polries
CROCKETT A Child's History of CROCKETT By Priscilla Crockett Beachbord © 1996
GOFFIGON A GOFFIGON Anecdote. by Jim McLoughlin © 1996
GRIFFITH The Jerom GRIFFITH Family of Northampton County, Virginia, 1644-1727, Supplement Number One to Along The Neuse, The Craven Bryan Griffin Family, 1728-1992, © 1995 by A. Ray Griffin, Jr.
GROVES Robert A. GROVES - (1764-1855) Revolutionary Soldier and Bodyguard to General George Washington by William E. Groves © 1996

NELSON Southy NELSON (1781-1812) and Sally Joynes BRICKHOUSE (1783-1859) Information on this family, including photos. © Copyright 1997 by Will Brown
OUTEN The Silver Spoon Mystery, or... Who Was E. OUTTEN? by Pierce Eichelberger
WISE A Story About Henry Alexander WISE, Lawyer, Soldier, Statesman,War Governor and Nestor of the Virginia Bar, and a native of Accomack County on the Eastern Shore of Virginia
Commissioners and Clerks 1640-1645
Cape Charles High School 1920 Class Roll Provided by Jennifer Doughty Hall
Franktown Nassawadox High School, 1925-26 Freshman Class Roll Complete with photo.
Graduates of Franktown Nassawadox High School 1907 thru 1918
Franktown Nassawadox High School High School Faculty 1925/26
Franktown Nassawadox High School Grammar School Faculty 1925/26
Franktown Nassawadox High School Group of Students 1925/26
Franktown Nassawadox High School Girls' basketball team 1925/26
Indians of the Lower Eastern Shore
CHINCOTEAGUE 1929: A Short Historical Sketch.
The Formation of DRUMMONDTOWN, later known as ACCOMAC.
HOG ISLAND.
PARKSLEY 1929: A Short Historical Sketch.

RED BANK Baptist Church in Marionville
CROWSONTOWN Methodist Episcopal Church in Justisville.
HUNGARS Church Adapted from "The History of Hungars Episcopal Church, Hungars Parish, Northampton County, Bridgetown, Virginia"
History Tidbits of Eastern Shore
Early Eastern Shore Newspaper, National Recorder
(C) Copyright 1996-2005 by Ghotes, Inc. All material on this web site is the property of Ghotes, Inc or the original contributors or authors. Third-party software may be used on this site with the permission of its creators, who retain all rights to the software. Material on this site may be used only for private and personal purposes. No material on this site may be used in any other publication, including a publication on the Internet, without the permission of Barbara Cox and the original owner of the material.
---